Overview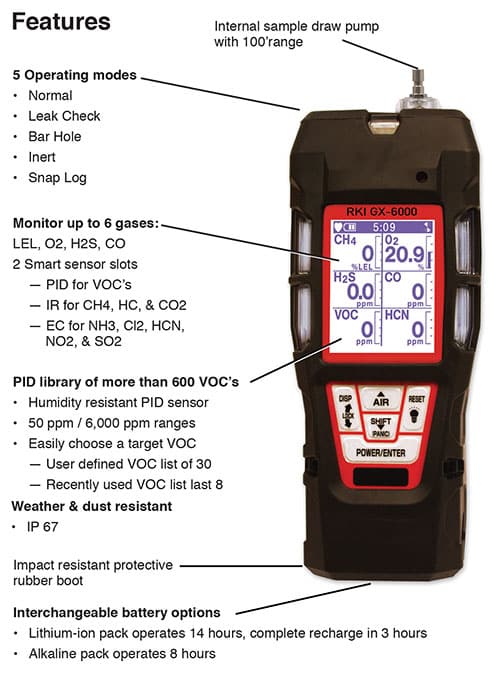 The GX-6000 is a game changer. This powerful hand-held instrument is capable of simultaneously monitoring up to 6 gases. In addition to the standard 4 confined space gases which include combustibles, O2, CO, & H2S, the GX-6000 has 2 additional smart channels that accept PID, IR or super toxic sensors. Equipped with a strong internal sample pump, a man-down alarm, a panic alarm, an LED flashlight, and large auto rotating LCD display, the GX-6000 can operate as a single gas PID unit or a multifunctional tool utilizing all 6 channels. The GX-6000 with a PID sensor will come equipped with a library of over 600 VOC gases to choose from as standard. Choosing from the library is easy with a personalized favorites list of 30 commonly used VOC's as well as a list of 8 of the most recently used VOC's. A benzene-specific version is available using a pre-filter tube for detecting low levels of benzene. Four PID sensors are available, 10.0 eV, 10.6 eV (low or high range), and 11.7 eV. Any combination of two PID sensors can be installed. GX-6000 PID sensors are also resistant to humidity.
The GX-6000 has a rugged design built for the nastiest environments. It is equipped with a removable impact-resistant rubber boot and a dust and water resistant enclosure with an IP-67 rating. With 5 bright LED lights on 3 sides of the instrument, alarms are easily seen from a variety of perspectives. With vibration and loud audible alarm, GX-6000 will easily alert users when needed.
Sensors available: CL2, CO, CO2, HCN, H2S, NH3, NO2, PH3, SO2, and VOC (volatile organic compounds) Ammonia, Chlorine, Hydrogen Cyanide, Nitrogen Dioxide, Phosphine, Sulfur Dioxide, Carbon Dioxide, Methane, Hydrocarbon, Hydrogen Sulfide, Carbon Monoxide, and Oxygen Monitor.
6 Operating Modes
Normal Mode
Barhole Mode
Inert Mode
Leak Check
Snap Log Mode
Benzene Specific