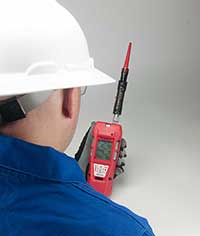 The GX-6000 is a game changer and it just changed the game again with the Benzene Specific measuring mode. With the addition of the more selective
10.0 eV PID sensor, the GX-6000 can now detect the BTEX family of VOC's including benzene, toluene, ethylbenzene, and xylene with a range of 0 – 100 ppm and a library of over 300 VOC's. By using the PID pre-filter tubes and the filter tube holder, the GX-6000 can specifically monitor for benzene at a range of 0.01 – 50 ppm by filtering out all other VOC's. The filter tube holder has a unique break away design to avoid accidental damage if impacted or dropped. The filter tube holder also includes a safe and convenient glass breaker for the filter tube tips.
Dual Channel PID Capable
The GX-6000 now has 3 PID ranges utilizing 2 sensors available, a 10.6 eV and the new 10.0 eV, which can be installed into either of the GX-6000's two smart sensor slots. The GX-6000 is the only PID instrument on the market with the ability to have two PID sensors functioning in one instrument. Use the broad range 10.6 eV PID sensor for a preliminary investigation, then switch to benzene mode for a highly specific benzene measurement.
GX-6000 Benzene Web Page for more Information

How to add Benzene Mode to Existing GX-6000
For customers who already own a GX-6000, but would like to add the new Benzene Mode capability it can be done in the field. Simply upgrade the firmware utilizing the instruction link below and order the Field Upgrade Kit, part # 75-0039, which includes the new PID-003L sensor, the pre-filter tube holder and a box of pre-filter tubes.
https://www.rkiinstruments.com/download/gx6000-firmware-update/