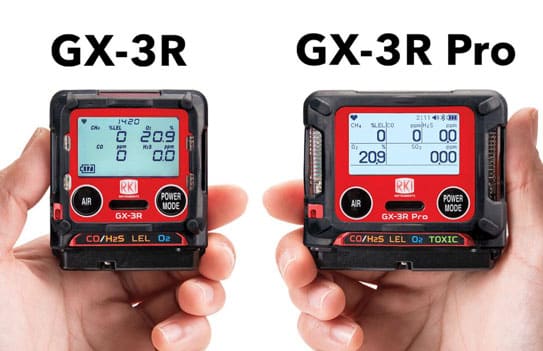 The GX-3R is the world's smallest
4-gas monitor!
Weighing only 3.52 ounces, it clips comfortably within a worker's breathing zone. Both the GX-3R and the GX-3R Pro utilize a new generation of micro sensors:
The new LEL sensor has two active filaments to increase its resistance to silicone poisoning
The new O2 sensor has a 3 to 5 year life span
H2S and CO are now monitored by one combination micro-sensor
Available with a hydrogen compensated CO sensor (as LEL/O2/CO)
Non-compliance indicator
The sensors are field replaceable: Easy to change in less than 60 seconds
Weighing only 4.58 ounces, it fits in the palm of your hand! In addition to the four confined space gases (CO, H2S, LEL, O2) the GX-3R Pro has a 5th channel for toxic and infrared sensors that can monitor:
ppm of CO2
% volume of CO2
SO2
CO sensor (with hydrogen compensation)
HCN, NO2, NH3, or CL2      [COMING SOON, 2020]
Additionally, the GX-3R Pro comes equipped with:
 Two interchangeable sensor slots providing flexible configurations
Non-compliance indicator
Man-down alarm
Panic alarm
Stay Connected!
The GX-3R Pro has Bluetooth Connectivity
Connect to the RK Link app to view direct instrument readings
Adjust alarms and instrument settings
Configure it to send alarm notifications and location to your desired contacts in case of emergency
Available on iOS and Android
3 Year Warranty
RKI backs up our quality with a 3-year warranty on the instrument and the sensors for both GX-3R and the GX-3R Pro. We believe gas monitors should be in service for years and not decommissioned after 24 months. If cost of ownership is important to you, then the GX-3R and GX-3R Pro are excellent solutions.