Confined Space Gas Monitoring Solutions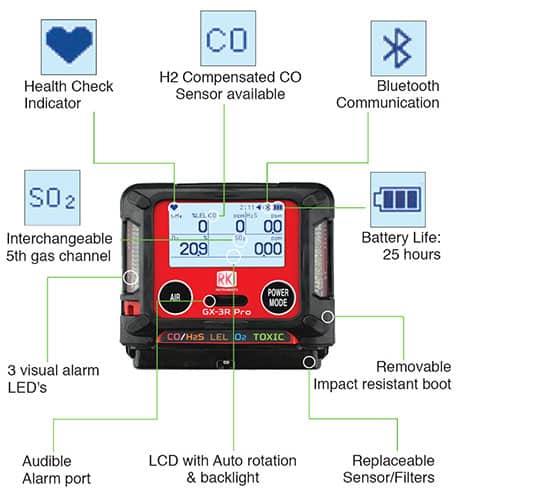 The GX-3R and GX-3RPro are the world's smallest confined space multi-gas monitors. They can simultaneously monitor and display the standard confined space gases, LEL, O2, CO, & H2S. The GX-3R Pro has a 5th channel where you can add infrared or toxic sensors.
The GX-3R Pro comes equipped with Bluetooth wireless communication, man-down alarm, the choice of alkaline or rechargeable power supply, and a 3 year warranty.  The Lithium-ion battery pack will operate for 25 hours and will fully charge in 3 hours. Direct gas readings from the instrument can be viewed realtime on a cell phone using the RK Link app, which is available free on either iOS or Android phones.  Automatic notifications can be programmed to send text or email messages, if there is an alarm event from the GX-3R Pro.
The GX-3R is the smallest & lightest 4 gas monitor. (2.2″ W x 2.55″ H x 1.02″ D, 3.52 ounces) The compact size can comfortably be clipped within a worker's breathing zone.
The GX-3R and GX-3R Pro represent the latest evolution of gas detection technology utilizing a new generation of micro sensors. The LEL sensor has a unique design with two active filaments in one sensor to increase it's resistance to silicone poisoning. If one filament gets poisoned the second filament takes over. The new O2 sensor is electrochemical with a 5 year life span. H2S and CO are now available in a combo micro sensor.
Detectable Gases
Gas
Measuring Range
(Increments)
Accuracy
Statement
Preset Alarms
Sensor Slot 1: Carbon Monoxide (CO) & Hydrogen sulfide (H2S) *Interchangeable
H2S / CO
Dual EC
0 ~ 2000 ppm
(1 ppm)
± 5% of reading
or ± 5 ppm CO
A1: 25 ppm│ A2: 50 ppm
A3:1200 ppm│TWA: 25 ppm
STEL: 200 ppm
0 ~ 200.0 ppm
(0.1 ppm)
± 5% of reading
or ± 2 ppm H2S
A1: 5 ppm│ A2: 30 ppm
A3: 100 ppm│TWA: 1.0 ppm
STEL: 5.0 ppm
H2S
Only
EC
0 ~ 200.0 ppm
(0.1 ppm)
± 5% of reading
or ± 2 ppm H2S
A1: 5 ppm│ A2: 30 ppm
A3: 100 ppm│TWA: 1.0 ppm
STEL: 5.0 ppm
CO
H2 Compensated
EC
0 ~ 2,000 ppm
± 5% of reading
or ± 2 ppm CO
A1: 25 ppm│ A2: 50 ppm
A3: 1200 ppm│TWA: 25 ppm
STEL: 200 ppm
Sensor Slot 2: Combustibles (Methane as standard)
CH4 / HC
Catalytic
0 ~ LEL (1% LEL)
± 5% of reading
or ± 2 % LEL
1st: 10% LEL │ 2nd: 25% LEL
3rd: 50% LEL │ Over:100% LEL
Sensor Slot 3: Oxygen (O2)
O2
EC
0 ~ 40.0% Vol.
(0.10%)
± 0.5% O2
Low 1: 19.5%│ Low 2: 18.0%
High: 23.5%│ Over: 40.0%
Sensor Slot 4: Toxics & CO2 *Interchangeable (only on the GX-3R Pro)
SO2
EC
0 ~ 100.0 ppm
(0.05 ppm)
± 10% of reading
or ± 5 % of full scale
A1: 2 ppm│ A2: 5 ppm
A3: 100 ppm│ TWA: 0.25 ppm
STEL: 0.25ppm
CO2 %
IR*
0 ~ 10.0% Vol.
(0.01%)
± 5% of reading
or ± 2 ppm
A1: 0.50% Vol.│ A2: 3.00% Vol.
A3: 4.00% Vol.│ TWA: 0.50% Vol.
STEL: 3.00% Vol.
CO2 ppm
0 ~ 10,000 ppm
(20 ppm)
A1: 5,000 ppm│ A2: N/A
TWA: N/A│STEL: N/A